In Stock
Sold out
Regular price
$19.79
Sale price
$19.79
|
Save
$0.00
(

0

% off)
Unit price
per
DESCRIPTION

Airborne Effervescent Tablets have a crafted blend of Vitamin C and 13 vitamins, minerals and herbs to help support your immune system in a great-tasting form*. Each serving (1 tablet) provides 1000 mg of Vitamin C.

Effervescent formula in tasty Very Berry Flavor

1,000 mg of Vitamin C per serving (1 tablet)

High in antioxidants (Vitamins A, C & E) and excellent source of Zinc, Selenium, and Manganese

Proprietary Herbal Blend including Echinacea & Ginger

Gluten Free
INGREDIENTS

citric acid, sorbitol, natural and artificial flavor, silicon dioxide, polyethylene glycol, hydroxypropyl methylcellulose, acesulfame potassium, sucralose
DIRECTIONS

Drop one (1) tablet in 4-6 oz of water, let dissolve and drink.

Adults and Children 14 years and older, repeat every 3-4 hours as necessary, up to 2 times per day. Children 12-13 years old, no more than 1 tablet per day.
View full details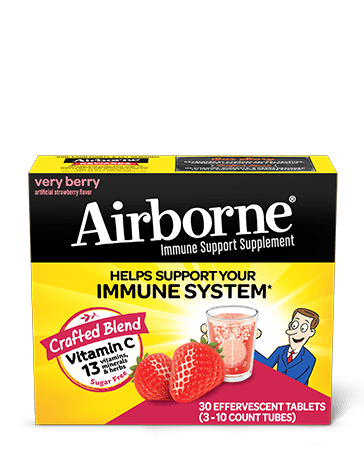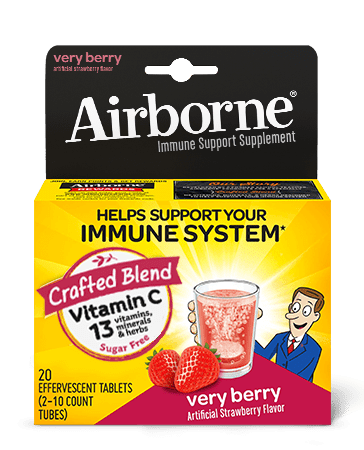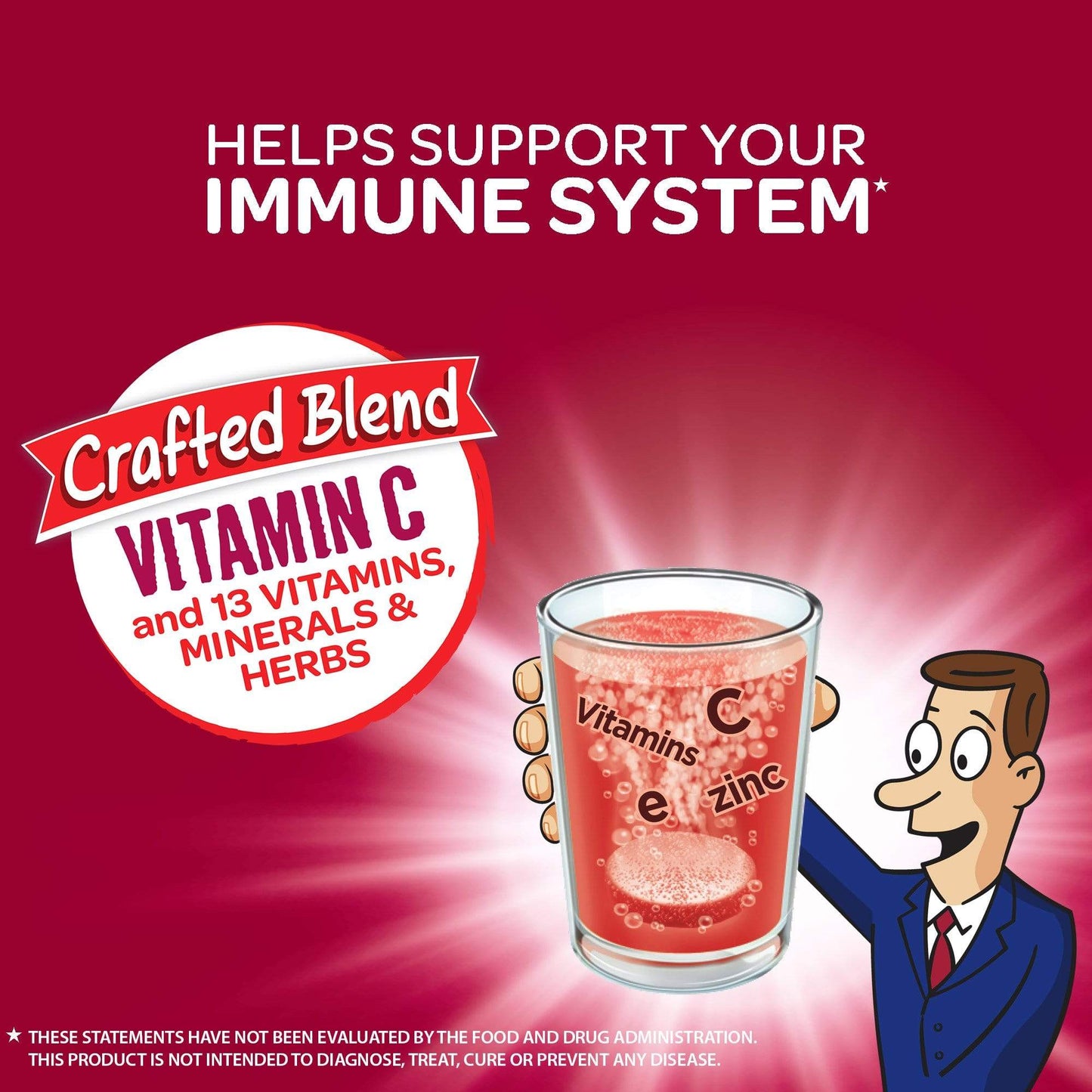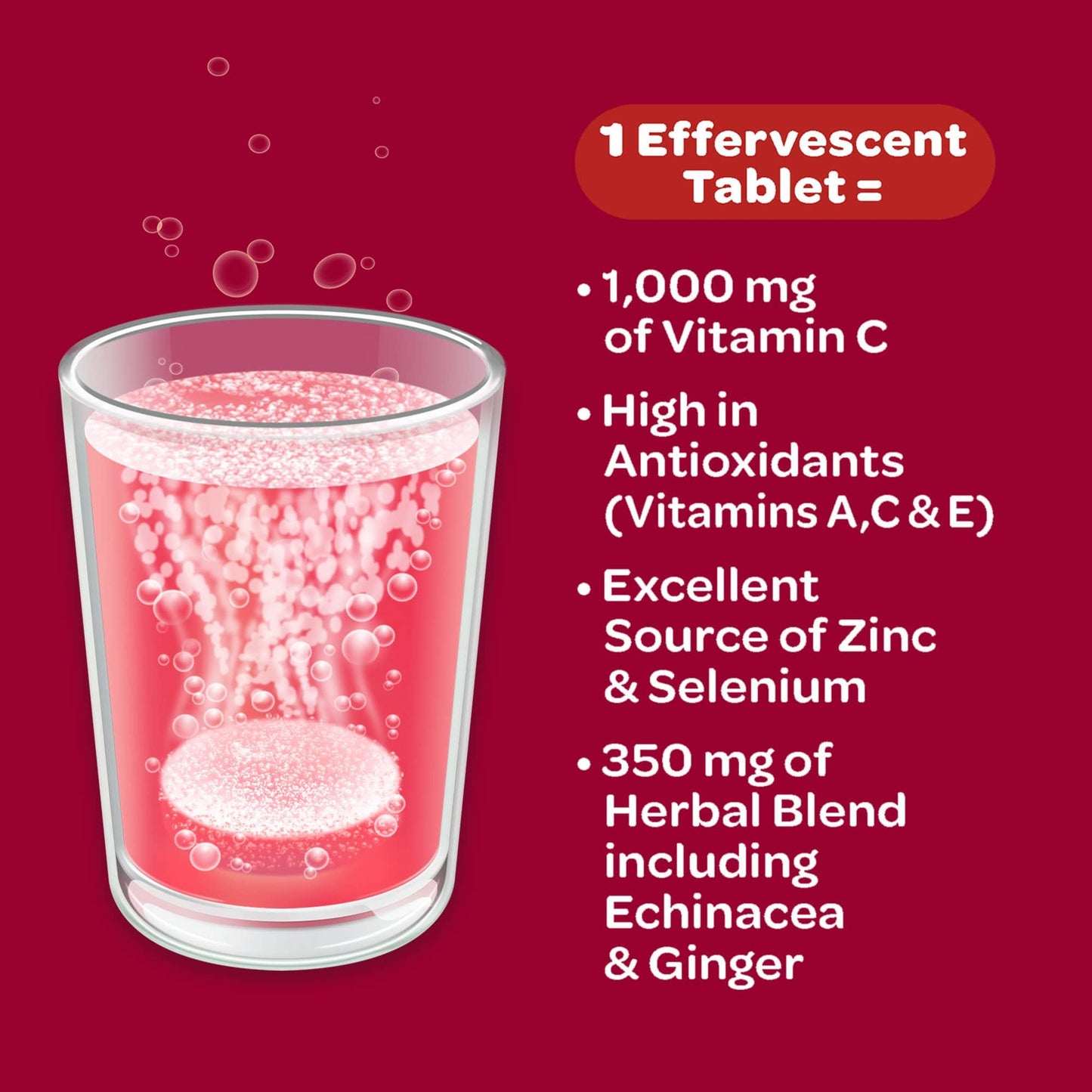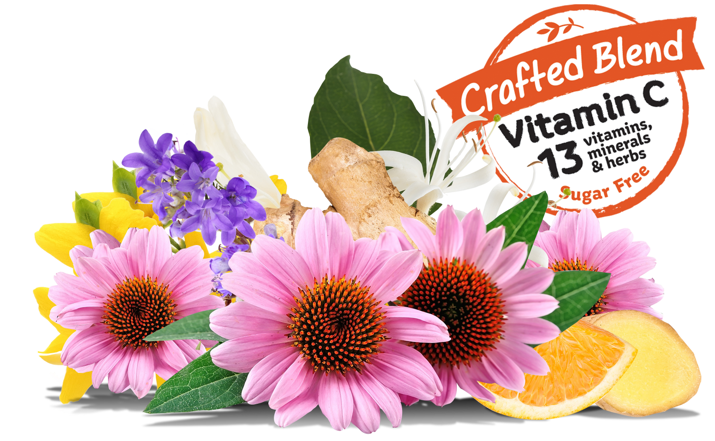 A delicious source of Vitamin C and Zinc
1 daily serving (1 effervescent tablet) of our crafted blend of 13 vitamins minerals, and herbs is designed to help support your immune health*. Each tablet contains 1000mg of Vitamin C plus Vitamin A, Vitamin E, Selenium, Manganese, Zinc, and 35.5 mg of herbal blend including Echinacea and Ginger.
How to take Airborne effervescent immune support tablets
Each easy-to-dissolve tablet makes a delicious, effervescent drink. Just drop 1 tablet in 4-6 fl. Oz. of water, let dissolve (~1 minute) and drink. For lighter flavor, mix with more water.
Airborne Effervescent tablets come in a range of fruit flavors
Get your immune support in a range of yummy flavors for every tastebud, including Zesty Orange, Lemon Lime, Pink Grapefruit, and Elderberry – all from the #1 immune support effervescent brand
1
.
*These statements have not been evaluated by the Food and Drug Administration. This product is not intended to diagnose, treat, cure, or prevent any disease.
1Based on unit sales L52W through 8/29/2020
Reviews
"Tasty, convenient, filled with good stuff!"
Tasty, convenient, filled with good stuff! I keep a tube at the office and at home...

— Joan
"Great taste!"
It tasted better than I expected it to taste, and with all the vitamins and minerals, I definitely recommend the product. I had the very berry flavor and it was like drinking a glass of cold juice without all of the sugar. I also do recommend taking it in cold water. The colder the better.

— Sercela3
"Quite pleasant"
These were great! Far better tasting than any other dissolvable tablet I've ever tried. Easy peasy. Ploop it into the recommended amount of water, let it fizz away and then drink. Quite pleasant!

— Angie52845