In Stock
Sold out
Regular price
$54.99
Sale price
$49.49
|
Save
$5.50
(

10

% off)
Unit price
per
DESCRIPTION

Neuriva Plus is a supplement designed to help support 6 different indicators of brain health: focus, memory, learning, accuracy, concentration and reasoning.* Our Rockstar ingredients include 2X the amount of NeurofactorTM, 1 ,plant sourced Phosphatidylserine, folic acid and vitamins B6 and B12, all of which help support brain health.*

NEURIVA FUELS 6 INDICATORS OF BRAIN HEALTH:

Neuriva Plus supports 6 different indicators: focus, memory, learning, accuracy, concentration, and reasoning.*

CLINICALLY TESTED INGREDIENTS:

Clinical studies have shown that coffee cherry (Neurofactor) and plant-source phosphatidylserine enhance brain health.*

INSPIRED BY NATURE:

Both Neurofactor and plant sourced phosphatidylserine are naturally sourced.

A CAREFULLY CRAFTED FORMULA:

Neuriva is GMO-Free, gluten-free, vegetarian, and decaffeinated.

1Compared to Neuriva Original

INGREDIENTS

Other Ingredients : capsule (hydroxypropyl methylcellulose, titanium dioxide, carrageenan, pectin), microcrystalline cellulose, rice brain, silicon dioxide, magnesium stearate

CONTAINS SOY
DIRECTIONS

Adults (18 years and older) take one (1) capsule daily.

Do not take if pregnant, breastfeeding, on medication, or with a known medical condition unless you have consulted a physician.

KEEP OUT OF REACH OF CHILDREN
View full details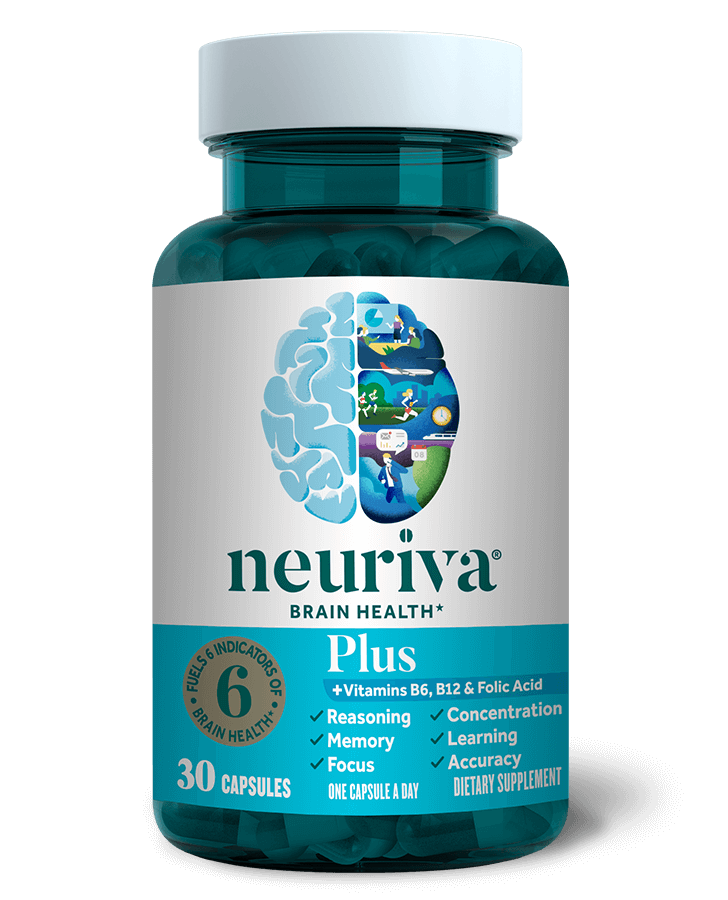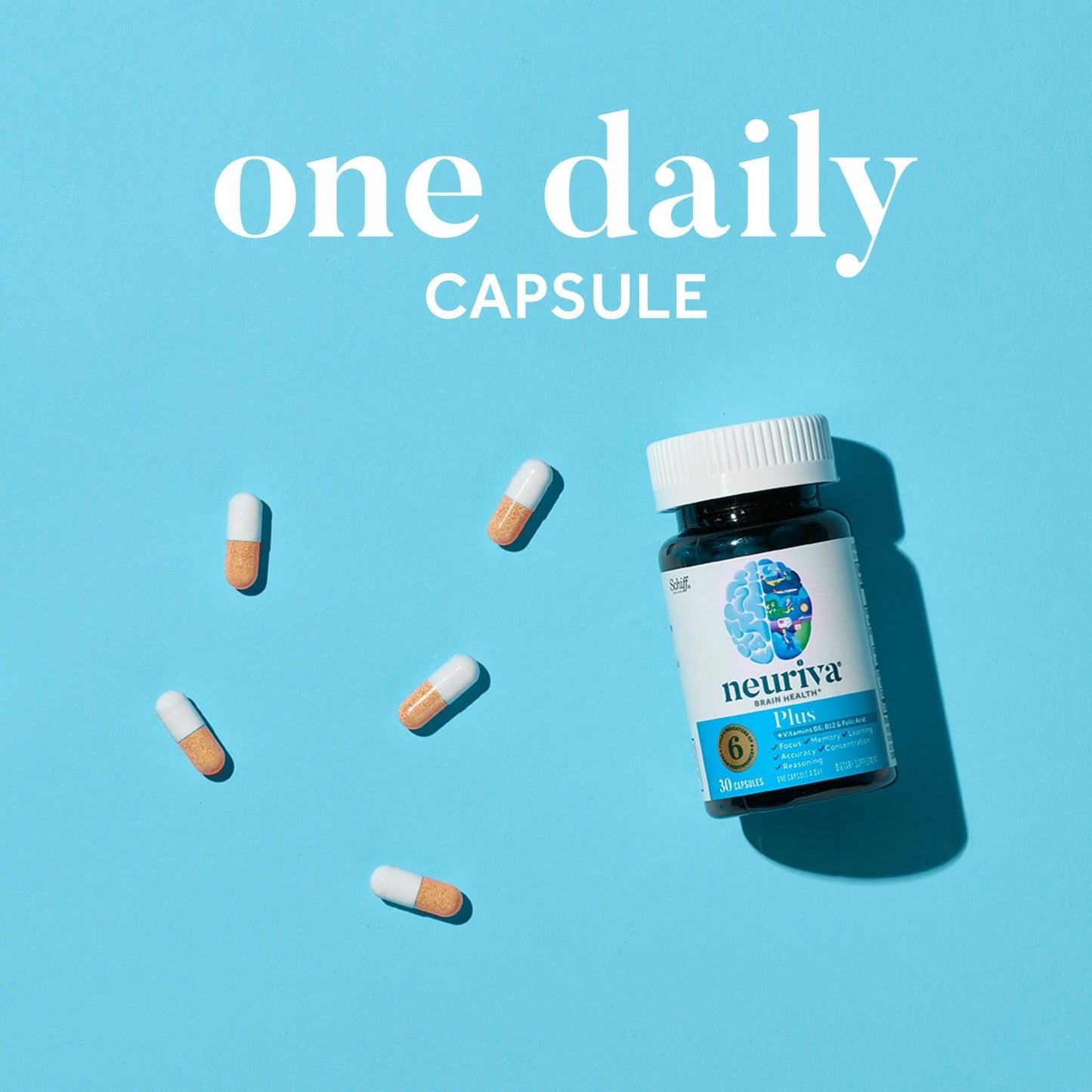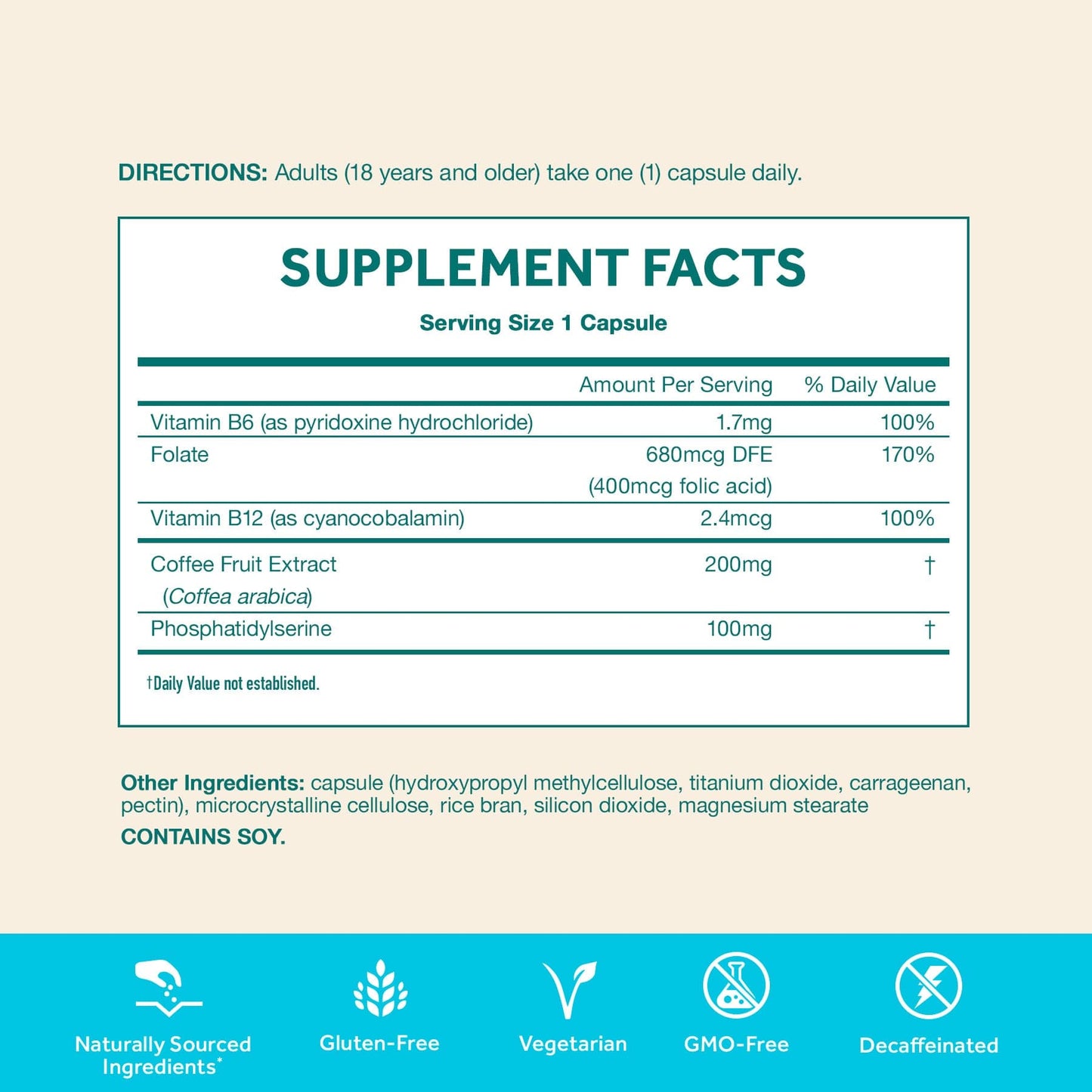 Where the brilliance of science and nature meet
Neuriva Brain Health Plus capsules feature NeurofactorTM, a whole fruit extract sourced from coffee cherry, which is decaffeinated. It is clinically tested to increase levels of the neuroprotein BDNF (Brain-Derived Neurotrophic Factor), which is known to strengthen connections between brain cells. It also contains Phosphatidylserine, folic acid, vitamins B6 and B12, and 2x the amount of NeurofactorTM to support brain health.*
One more great reason – they support reasoning!
Neuriva Brain Health Plus capsules fuel six indicators of brain health: focus, memory, learning, accuracy, concentration, and reasoning.* It can help you focus in and filter out distractions, react with greater speed and precision, record, and recall stored information, retain new information, and keep concentrating on tasks for longer.*
We're your brain's biggest fan
Neuriva offers a holistic approach to a brain-healthy lifestyle with the Neuriva Brain Gym app and our carefully designed supplement, which is supported by Our Brain Health Experts, a coalition of the brightest scientific minds including a pharmacist and dietitians to bring brain science to your everyday life. Give your brain a workout with our FREE
Neuriva Brain Gym app
to start building your brain fitness.
Reviews
"Neuriva is Wonderful"
I can already tell a difference by the little things I am remembering that 6 months ago I would have had trouble remembering. I am really pleasantly pleased with Neuriva.

— LisaMac
"Must try product you'll be glad you did"
Has made me feel better since I started taking them

— Carol
"Works well"
This product seems to work for me. I have been taking it for a while now.

— Anonymous